Our History
Our History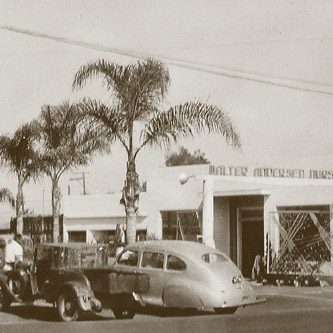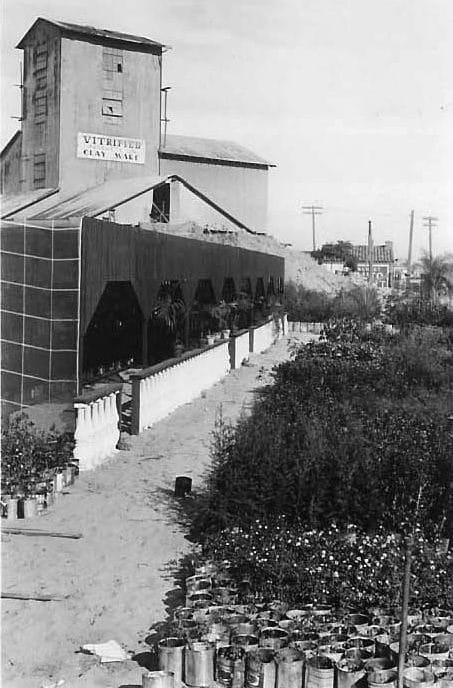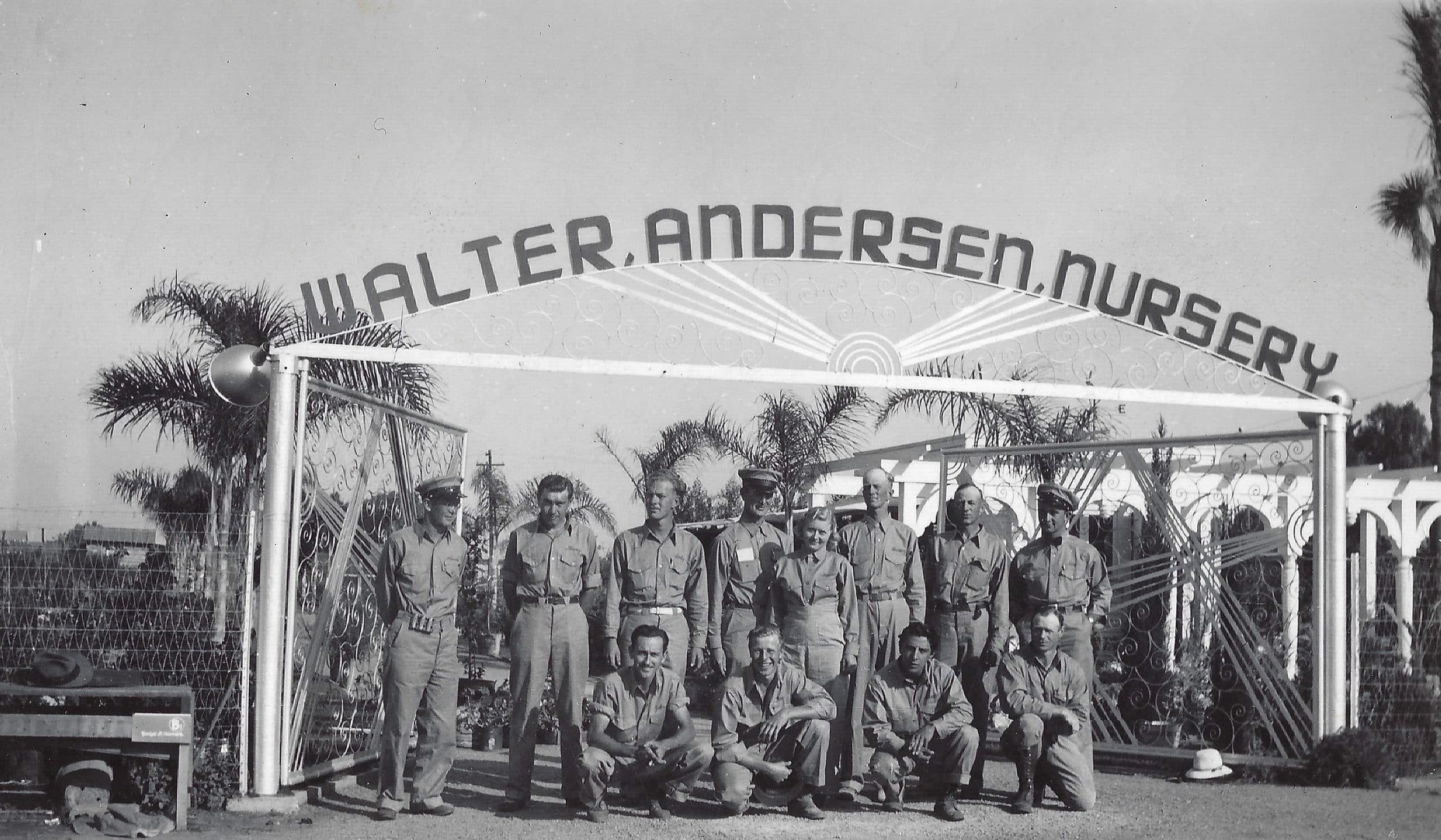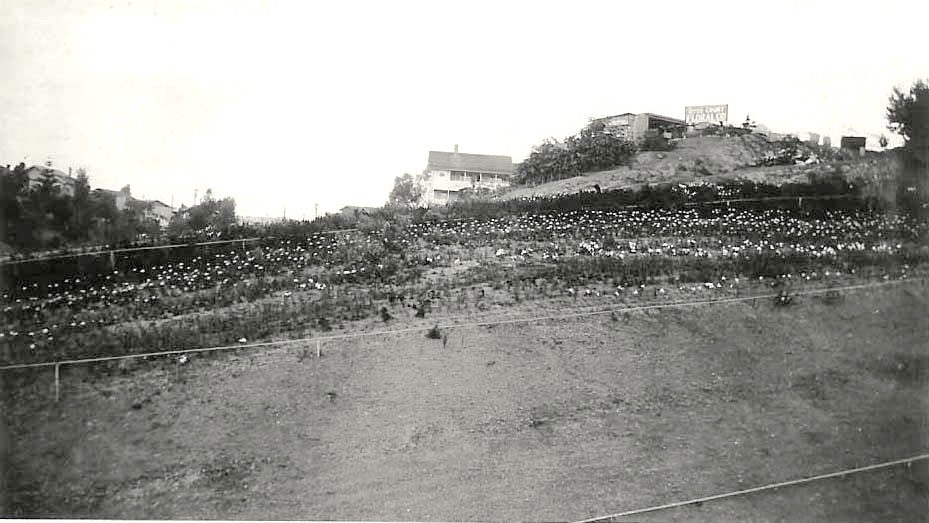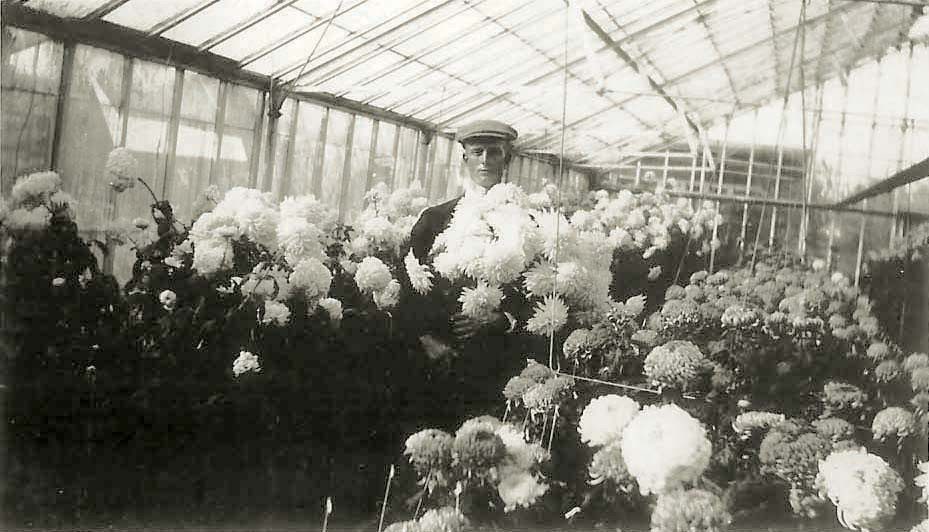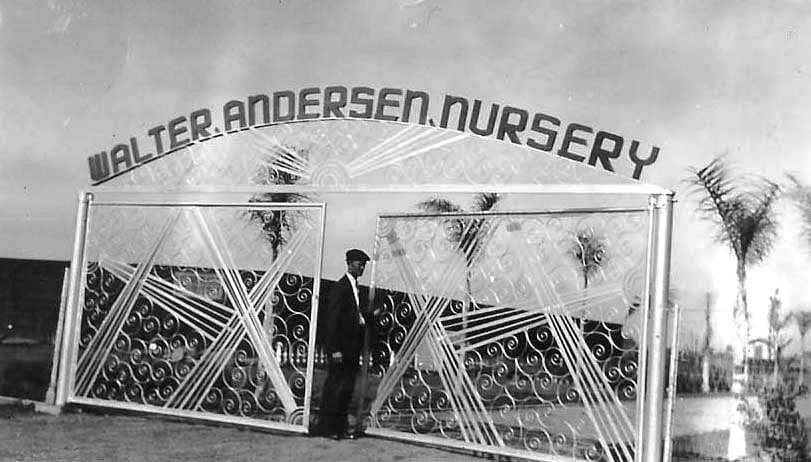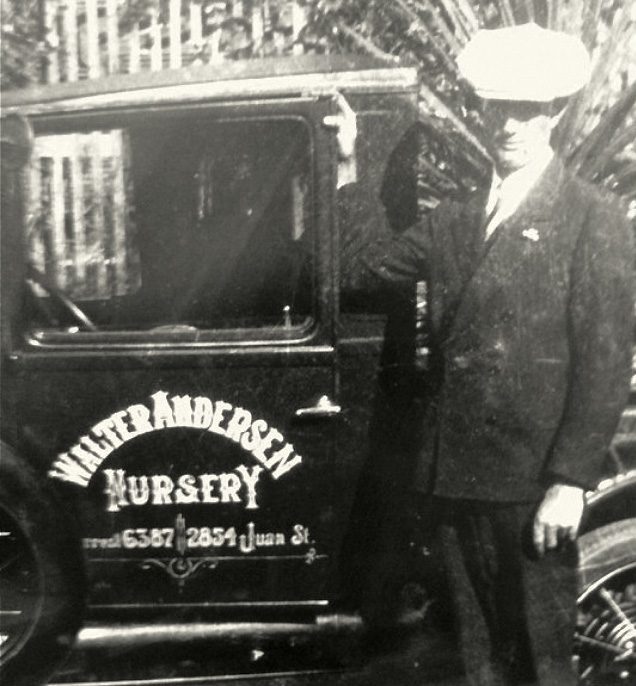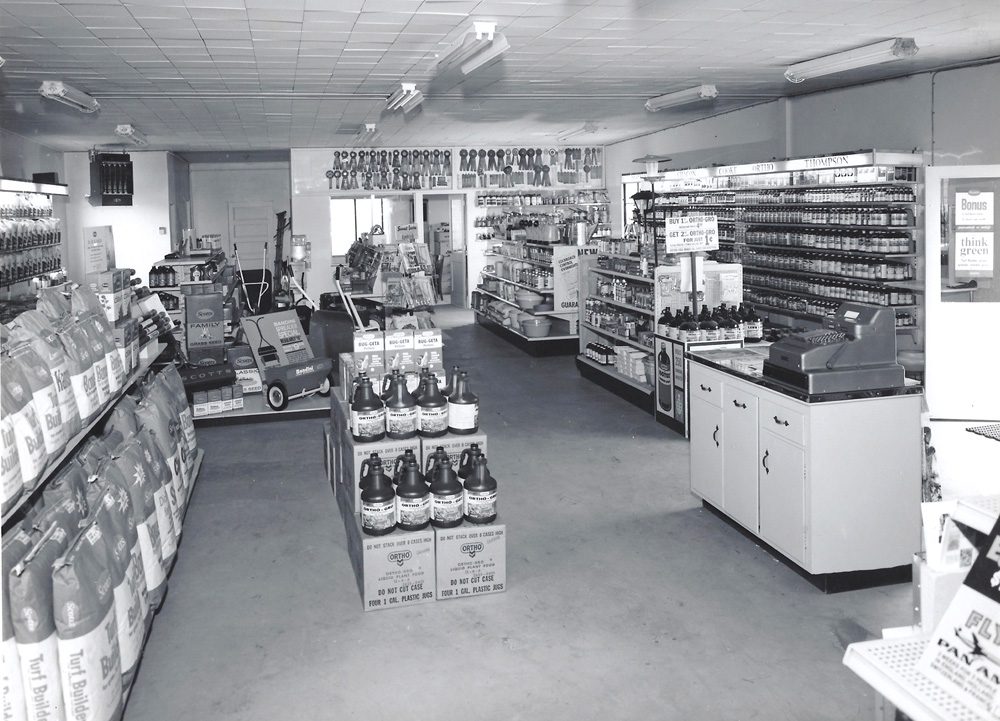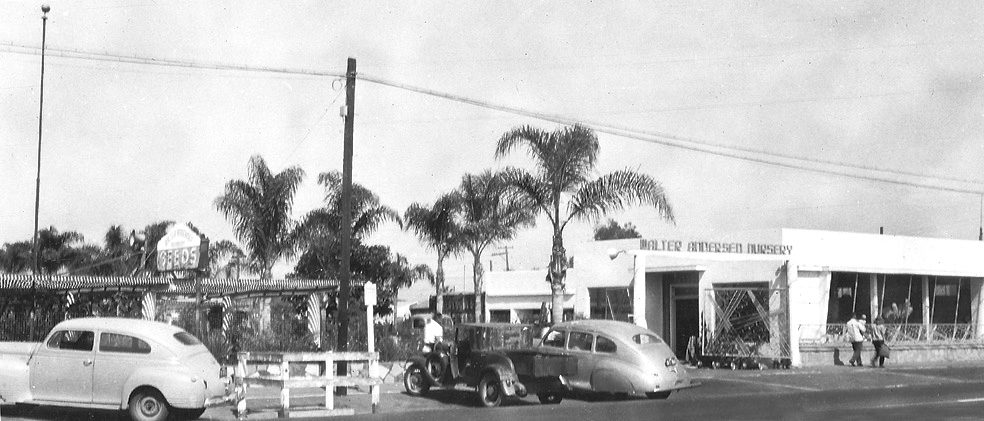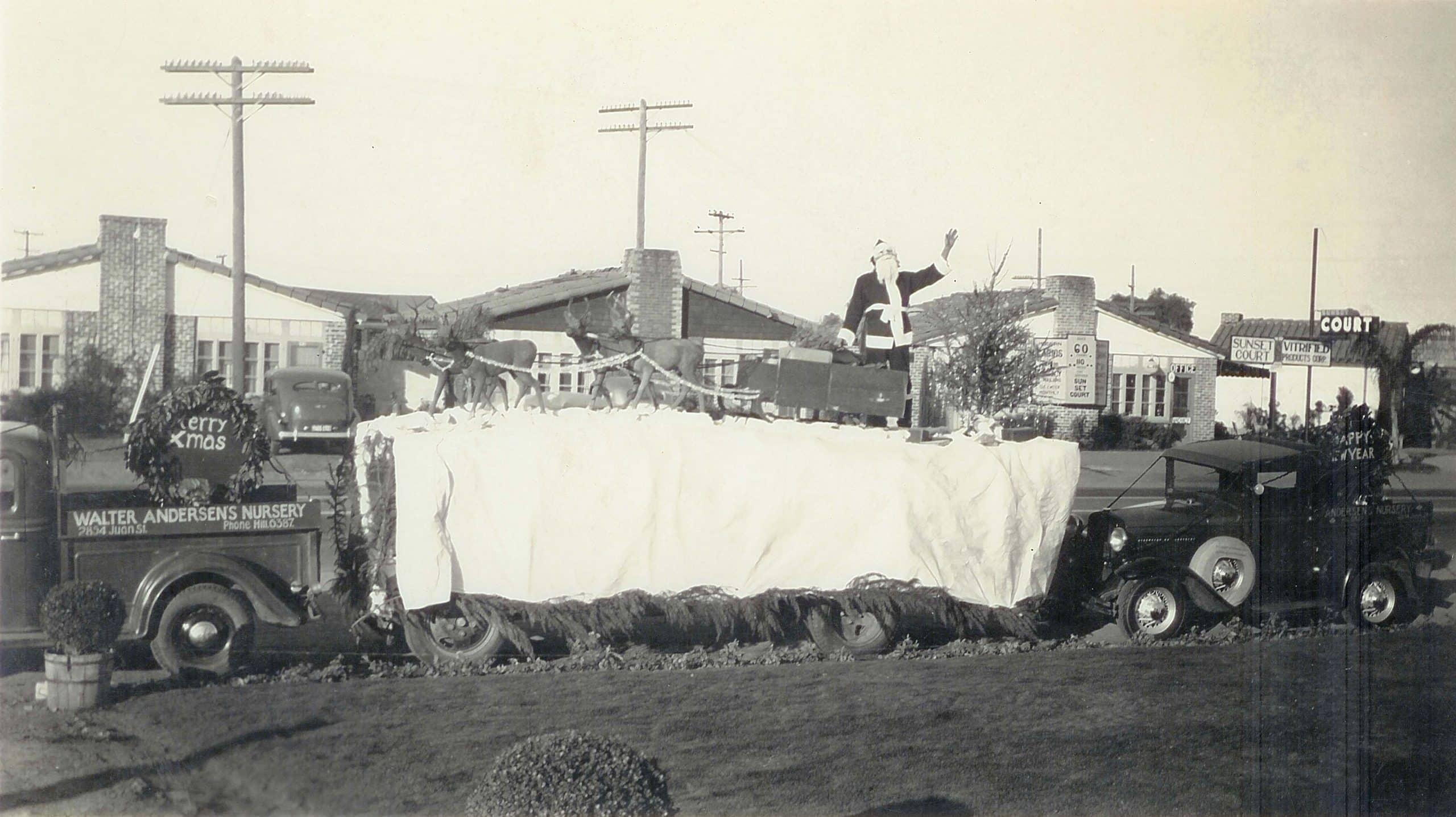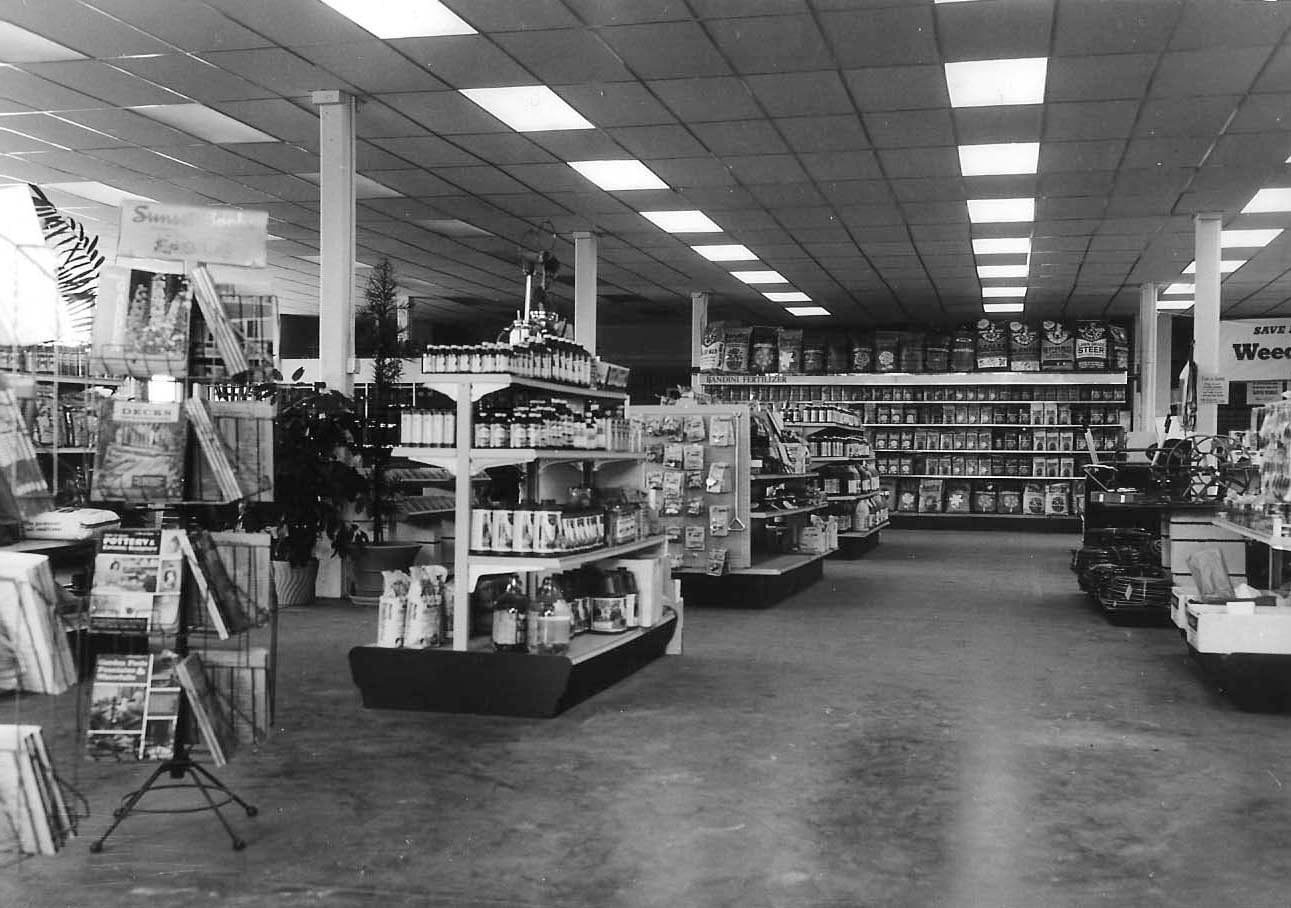 Founded in 1928
Walter Andersen Nursery was opened in 1928 by Walter Andersen Sr. on Juan Street in Old Town near the intersection of Taylor Street. In the early years of the company, Walter Andersen Nursery provided landscaping and garden services, from maintenance to landscape design and installation as well as selling plants and supplies. Over the years the landscape and plant sales grew to be the majority of the business and the maintenance side was phased out. Throughout the depression the business grew. Walter Andersen's reputation for supplying the finest plant material and providing quality landscaping grew as well.
Beautifying San Diego
Walter Andersen left his mark on San Diego in many ways. Some of the larger projects he worked on over the years include The San Diego Post Office downtown, the County Administration building, numerous projects for the San Diego Zoo and Safari Park, the Westgate Hotel, National Steel and Shipbuilding, and Westgate Park the original Mission Valley home of the San Diego Padres, and the Christmas Tree-shaped Cedrus deodoras planted in the center median along Orange Avenue in Coronado just to name a few. Walter Andersen Nursery has also participated and supported many flower and garden shows over the years. From the Orchid Show to the Coronado Flower Show and the Del Mar Fair. Walter Andersen Nursery is the longest running exhibitor at the Del Mar Fair Flower Show, not missing an exhibition since its inception in 1938.
A Family Affair
As the plant sales grew to be a larger portion of the business, Walter Sr. and his son Walter Jr. decided to stop landscaping and concentrate on selling plants and gardening supplies. From then on, Walter Andersen solidified its standing as the gardening authority in San Diego. Daily operation of the nursery was turned over to Walter Jr. in the mid 1970s, but Walter Sr. continued to take an active role in the business and was at the store six days a week until shortly before his death in 1983. Walter Jr. and his wife Jolene's son, Ken, joined the management of the nursery in. After receiving a bachelors degree in business in 1986, Ken became General Manager of Nursery Operations. Walter Andersen Jr. continues to work as president of the company. Karen Andersen Thatcher, Ken's sister, has worked for the nursery since 1995. Her husband joined the nursery full-time in 1996 as construction manager for the Poway store.
Expanding & Growing
In 1995, the decision was made to expand the nursery operation by opening a second store. After careful study and consideration, a piece of property was purchased in Poway for the second store. This store is twice the size of the Point Loma store and serves the communities of Poway, Scripps Ranch, Peñasquitos, and Carmel Mountain Ranch. The store opened in the summer of 1998. In 2011, the San Diego Ad Club chose Walter Andersen Nursery as one of the 100 Most Influential San Diego Brands of the last 100 years. In 2018, the company celebrated a great milestone reaching its 90th anniversary in business. Walter Andersen Nursery has been in the SAN DIEGO BUSINESS JOURNAL list of San Diego's Oldest Businesses for a number of years.
2020 & Beyond!
Today, the nurseries are still family-owned and operated with Walter Jr. as Chairman. Jolene continues to work in the main office overseeing financial, accounting and operational issues, Ken Andersen serves as President & CEO of Nursery Operations, Karen Andersen-Thatcher serves as VP of Human Resources and CFO for the company, and John Thatcher oversees various construction projects for the company. Ken's wife, Melanie, is Director of Marketing and Publications for the company.
Our Plant Quality Guarantee
Our Plant Quality Guarantee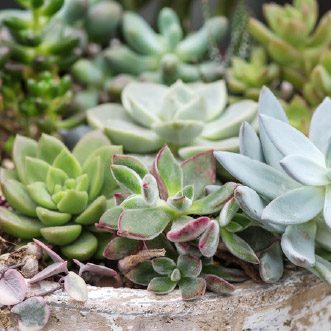 What to Expect From Walter Andersen Nursery Plants
Installing the plants in your landscape is your final step in the design process. Depending upon what you and your designer have decided, you may have opted to use smaller, less expensive plants with the understanding that you don't mind waiting for them to grow and fill in. Some homeowners want to see a finished look immediately and will opt to buy larger, more expensive plants.
When you purchase plants at Walter Andersen Nursery, you are buying a plant that is a larger 'retail grade' plant rather than a smaller 'landscape grade' plant offered by box stores or some wholesale nurseries. The plants sold at the nursery are grown by growers that nur-ture plants to give them a good start so they will perform well in your landscape and remain healthy. Walter Andersen Nursery warranties its plants for 90 days and will work with you to ensure your plant's success.
When your plant order is placed, it can take up to two weeks for the growers to provide the items you request, if they aren't available out of our inventory. Walter Andersen Nursery will hold your plants until your order is complete, and can coordinate with your installer (whether it is a contractor or yourself) the delivery of the plants.
The integrity of your design is important. If you work with a designer, they will select plant varieties that they are confident will meet your needs. It is important that you or your designer be aware of plants that may be unavailable. In this case a substitution may be necessary. Our nursery knows how important it is to share this information with you. Making substitutions without your knowledge or your designer's knowledge can compromise your design. On the rare occasion when this occurs, our buyers will work closely with you or your designer to find a substitution that does not detract from your overall design.
In this last step of a project that is so important to you and the look of your home, remember that you'll get what you pay for. Let Walter Andersen Nursery help you put the final touch on your landscape.
Hedge Fund$ Program
Hedge Fund$ Program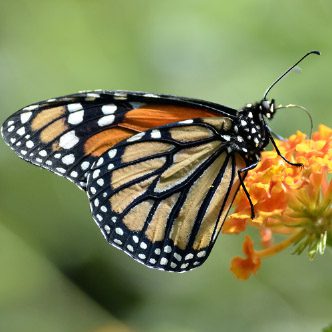 Hedge Fund$™ – Walter Andersen Loyalty Program
$1 spent = 5 points received
---
$100 spent = 500 points received
500 points = $5 in Hedge Fund$(HF$) earned
$100 → HF$5
---
$200 spent = 1000 points received
1000 points = $10 in Hedge Fund$(HF$) earned
$200 → HF$10
---
Loyalty Program
Hedge Fund$ Certificates (HF$ Certificates) are issued in increments of HF$5, HF$10, and HF$20.
Hedge Fund$TM certificates cannot be redeemed date of issue and are not valid until 5 days after date of issue.
HF$ Certificates expire 45 days after they are issued.
Hedge Fund$™ certificates are like cash and cannot be replaced if lost or stolen.
HF$ Certificate will print automatically when a customer's point balance goes over 500 points, if a customer has 700 points, 500 points will be used to issue a HF$ Certificate and the remaining 200 points remain as loyalty points.
Points never expire certificates do.
HF$ Certificates cannot be used towards the purchase of Gift Cards, Sod or for Payment on Account.
No Cash Refund on HF$ Certificates.
Partial redemptions are allowed, but the customer receives no change if they do not use the full HF$ Certificate amount. The HF$ Certificate is "use it or lose it" in regards to the balance of the certificate.
HF$ Certificates must be turned in to the Cashier when used for payment.
Maximum amount of points earned per ticket is 10,000. Any sales amount over $2,000 does not earn points.
Points may be earned on tickets where HF$ Certificates have been redeemed. Dollar amount used to calculate point earnings is net of the amount of the HF$ Certificate redemption.
Example: $59.80 subtotal of sale, HF$Certificate 20 used as tender = 39.80 new subtotal x 5(points per dollar) =199 points earned for this purchase.
---
Returns
If a customer returns items that were purchased (fully or partially) with HF$, a store credit will be issued to the customer for the amount of the return. No cash refunds will be made for these returns.
Points are reduced when a customer returns items.
If goods are returned that cause the customers point balance to go below -500 points, CounterPoint will automatically search for outstanding HF$ Certificates to cancel.
If a HF$ Certificate was issued after a purchase and the goods were subsequently returned, the points balance will be reduced based on the dollar amount of the Return and if the return was over 500 points the HF$ Certificate will be Cancelled.
When a HF$ Certificate is cancelled due to a return the total points value of the HF$ Certificate will automatically be added back to the customer balance.
If you have any questions about the program please see a manager and enjoy your Hedge Fund$™ Savings!