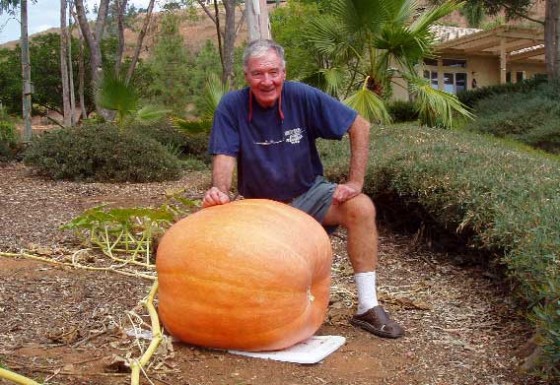 We sure had fun seeing our pumpkin patch grow this summer, and we wish we could report a happy ending. However, we were the victims of pumpkin failure. Our giant pumpkin got to be about 30 pounds, then rotted. Store Manager David Ross' giant pumpkin he was growing at home suffered a similar fate, but it did reach just over 300 pounds. The store was able to harvest its Big Max pumpkin that went on to complete its life as a carved jack o' lantern.
The giant pumpkin growing seminar we held at the Poway store in May, however, did have some success stories. Pictured is Jim Stevenson, a class attendee who managed to harvest three large pumpkins.
September 9

Our pumpkin patch finally looks like a pumpkin patch, at least a little bit of one since we're not overrun with pumpkins. Here's a view of part of the pumpkin patch. The pumpkins have grown enough that we can identify them. Not knowing what was what was like waiting to open birthday presents to see what the wrapped packages held, as some things that were planted were not identified. However, the orange pumpkin at the bottom of the photo is a Big Max. The pumpkin at the top of the photo is believed to be a Dills Atlantic Giant Pumpkin.
---

Here's Big Max. We don't expect it to grow much more and it is ready to harvest. Within the last couple of weeks, it developed a nice orange color. The vines are beginning to mildew and look scraggly which signifies the end of the pumpkin growing season.
---

These two yellowish-white colored pumpkins are believed to be Caspers. Casper pumpkins are white ornamental pumpkins and are good for eating.
---

Here's what we think is our giant pumpkin. A tennis ball is next to the pumpkin so you can get an idea how big it is. When it doubles or triples it size, we'll have to place it on a palette so it won't risk rotting while growing on the damp ground.
---